"Well, you've always had a pretty face."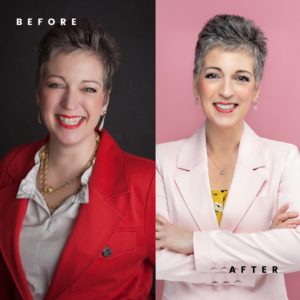 It's as though carrying extra pounds would make me ugly!
That was then…
I was a typical yo-yo. I could look at pictures of myself and determine the year they were taken based on my hair color and weight.
That ended 2 years ago.
As had been my history, a big event was approaching and I wanted to look "my best." That event, my 55th birthday!
I resolved if I didn't lose the weight this time, I would accept the size I was and commit to being healthy while overweight. After all, I could usually camouflage things pretty well by wearing big earrings, big hair, and a big smile. My goal was to distract people from anything below my shoulders.
So with a mustard seed size hope, and the example of a friend who'd successfully become a loser, I decided to try one more time. And wow, am I thankful I did!
This is now…
This year marks my celebration of release.
Release of guilt and shame, limiting beliefs and lame excuses, of fear and failed attempts.
Whether it's letting go of physical, emotional, spiritual, or financial weight, YOU can live free from the chains keeping you stuck.
Working with women from all walks of life who have a wide range of hopes and dreams, I help them create and clarify strategies for personal and professional advancement. I guide them through transformation so they can start making waves.
It starts with accepting permission and ends with claiming their birthright.
Through releasing the physical weight, I realized I actually gained.
Gained confidence, energy, focus, and freedom.
Living free from what's keeping you stuck, frustrated, overwhelmed, and burned out is how you're meant to experience life. In losing, you can gain.
I'm so thankful I took one more risk on myself. It's reason to celebrate.
How about YOU?
What do you want to celebrate? What do you dare dream of?
Share it with me in the comments below. I'd love to encourage you. If you want more for yourself, there's a reason and you're worth it!